Via comments:
Anything from the M16 platform inside of 500y is a confidence target, last times I've checked. I sold the A2 version I had, which generally flipped the "y"s to "m"s as far as accuracy.
For the scoped 700 in .308, that moves to 750y unless the winds are over 30MPH from 3 or 9, and I need a spotter shot or two.
It's been a bit over a year since I verified my zeroes, but I've got a friend who's put in a 1000y range down on the border I need to go visit.
And for those time-limited, you can make a 10y snap-in for 100 to 500y on posterboard with a sharpie for dry fire, and get a shit-ton of dry-fire snap-in practice in the back yard.
https://qph.ec.quoracdn.net/main-qimg-fe9f347adf67451db62a7cf80a4d5c3f-c
At 10y standing in for 100y, the B modified long-range target is the end of a 2″x4″. 500y is 1/4″ x 1/2″.
If you want high tech, get a laser boresight round and use your smartphone or a video camera to document where you are when the piece goes "click".
A dime flat across the front sight post detects a lot of trigger errors, and gravity and physics never lies.
Once you've worked out the fundamentals kinks in dry fire, zero with the below at 25m (81.25′ if you're using a tape measure or laser rangefinder).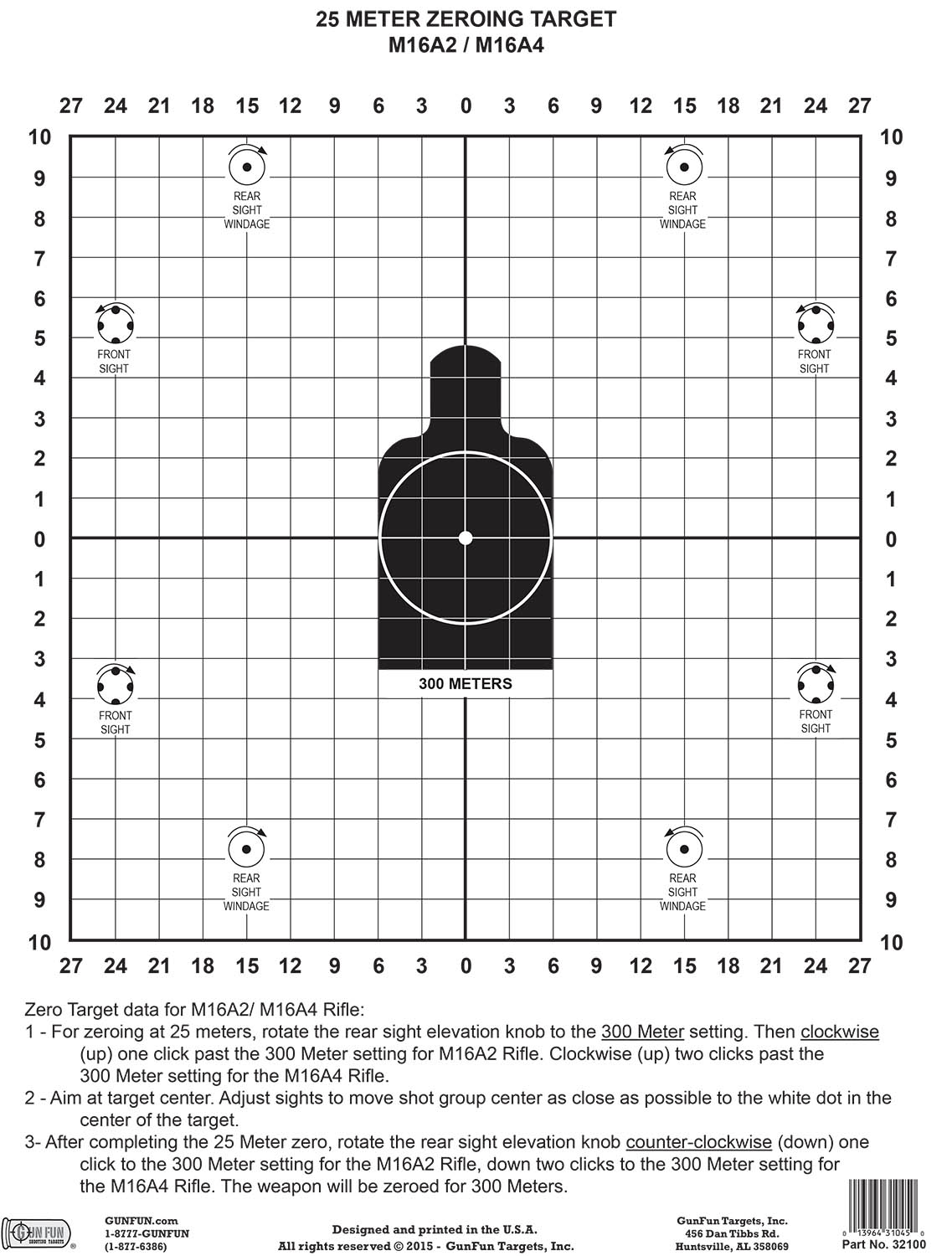 For 16″ barrel carbines, use this:
http://www.bobdbob.com/~deneb/doc/targets/m4-carbine-zero.pdf
Zero the piece per instructions, and use the rear sight elevation numbers as needed, and from 0-500, all you have to worry about is windage.
You're now GTG.
Then put an EOTech, ACOG, or one of the AR-series scopes on, and you're lethal at all effective ranges, if you can dope wind.
This is why any version of CW2.0 unpleasantness is going to be like massed troops finding out that rifled muskets firing minie balls were one helluva lot more accurate than obsolete Napoleonic tactics could cope with.
See also related material from the USAMU.